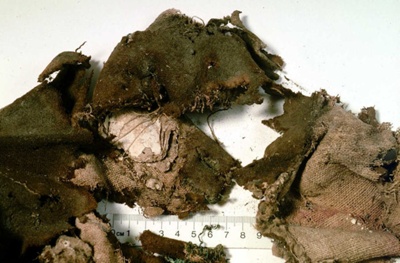 Name/TitleDoublet
About this objectLoft caviety, Abingdon, Oxfordshire, England

The doublet was dated by costume historian Janet Arnold to between 1625 and 1630. It's size and the absence of tabs at the waist suggest that it would have been worn by a boy. The outer fabric is twill woven wool and the interlining and lining are made from plain woven bast fibre. It has an upstanding collar, which is stiffened with cardboard. There are eighteen button holes down the proper left front. Three buttons remain on the right proper side and a metal hoop fastener at the collar, the buttons are made of beige wool yarn wrapped around a wooden core. Much of the right proper side, back and sleeve are missing. Evidence suggests that the doublet was heavily worn before being concealed, which accounts for some of the soiling and loss of fabric.

The doublet is in a very fragile and fragmentary condition. It is crumpled and distorted, with large areas of loss; most of the right proper side, back and sleeves are missing. The many small holes in the outer fabric are likely to be the result of moth damage. Some soiling on the doublet such as perspiration and food stains is the result of wear before it was concealed. Further soiling occurred after concealment, clay, mortar, sand and chalk and dust have been identified. Dye tests demonstrate that the brown colour of the doublet is the result of fibre degradation, rather than the application of dye, this is further demonstrates the fragility of the fibres.

The doublet was the subject of a student research project undertaken by Anna Harrison in 1998, under the supervision of conservator Dinah Eastop. During the course of the project the doublet was stabilised by removing particulate soiling and mounting on a purpose made padded board. The level of intervention was minimal to preserve the doublet in the manner and context in which it was found.

-----
This cache was discovered in 1994. It was concealed in the attic space of a house in East St.Helen Street, Abingdon, Oxfordshire, in a wall cavity filled with hops. The house is owned by Oxfordshire Preservation Trust, who uncovered the group of objects while undertaking restoration work.

The finds were passed to the custodianship of Abingdon Museum, who contacted Dinah Eastop, conservator at The Textile Conservation Centre for help with their identification. Dinah co-ordinated research into the three textile artefacts from the cache which was taken on as a student project by Anna Harrison. Following this research project the cache was returned to Abingdon Museum, where it is displayed today.
Date Made1625-1630
Place NotesLoft caviety, Abingdon, Oxfordshire, England
Medium and Materialswool (textile)
bast -plant fiber -natural fiber -fiber
bast -plant fiber -natural fiber -fiber
metal -inorganic material
MeasurementsLength 38cm
Width 36cm
Depth 7cm
CollectionAbingdon Cache
Object TypeConcealed Garments
Object numberCG1.a