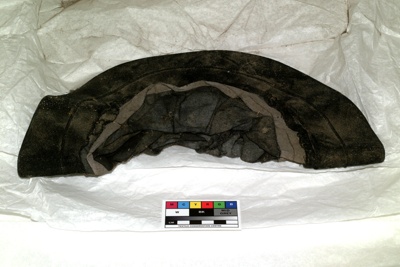 Name/TitleHat
About this objectUnder first floor floorboards, Cupar, Fife, Scotland

The hat is thought to dated from between the late 19th century and the early 20th century. It is machine stitched and has a wide brim of dark blue velvet which is stiffened with a thick layer of cardboard. It is difficult to ascertain whether the crown was originally formed by the cotton that is sewn into the brim, or if the cotton is the lining from a crown that was cut away. The way in which the velvet on the inside of the brim is cut suggests that there was once a velvet crown, this theory is supported by the manner in which the cotton part of the hat is finished, it is not to the same standard as the brim.

The hat is in a fair condition, it bares few signs of having been worn before it was concealed. The most significant damage to the fibres is likely to have occurred along the fold. It appears to have been folded prior to concealment and remained in this way while under the floor boards. It is covered in a layer of particulate soiling, which is likely to have built up while it was concealed.

A proposal for the conservation of the hat and plans for its future method of storage are currently being prepared by Fiona Hood, under the supervision of Senior Lecturer and Conservator Dinah Eastop, at The Textile Conservation Centre.

-----
This cache was found concealed in a former farmer's cottage in Cupar, Scotland, it consists of a glove and a hat, thought to date from the late 19th century to the early 20th century. The discovery was made while the owners of the property were undertaking electrical renovations in April 2001. The cache was located under floor boards on the first floor, directly above the front door.

The owners of the property donated the cache to St.Andrews Museum, in East Fife. The glove has been kept in the collection at the Museum as it bares the mark of a local saddlers. The hat has been donated to The Textile Conservation Centre Karen Finch Reference Collection, where it will be researched and conserved as part of the Deliberately Concealed Garments Project.
Date MadeLate 19th Century-Early 20th Century
Place MadeScotland
Place NotesUnder first floor floorboards, Cupar, Fife, Scotland
Medium and Materialscotton (textile)
cardboard -pasteboard -paper (fiber product)
CollectionCupar Cache
Object TypeConcealed Garments
Object numberCG2.a