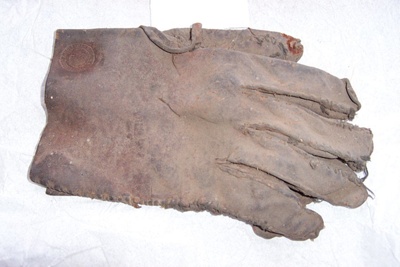 Name/TitleGlove
About this objectUnder first floor floorboards, Cupar, Fife, Scotland

A makers mark stamped on the upper left side of the glove indicates that it was made locally in Cupar. This type of glove would have been worn by a man for manual work. It is thought to date from between the late 19th century to the early 20th century and is made of leather, it is not lined. This glove was worn on the right hand, its pair was not found in the cache.

The glove is in a poor condition. It appears to have been heavily used prior to concealment. The leather on the underside of the fingers is particularly worn and there is evidence that areas have been repaired. The glove is covered in a layer of heavy ingrained and particulate soiling, which is likely to have resulted from wear and a build up of dust and dirt while it was concealed.

-----
This cache was found concealed in a former farmer's cottage in Cupar, Scotland, it consists of a glove and a hat, thought to date from the late 19th century to the early 20th century. The discovery was made while the owners of the property were undertaking electrical renovations in April 2001. The cache was located under floor boards on the first floor, directly above the front door.

The owners of the property donated the cache to St.Andrews Museum, in East Fife. The glove has been kept in the collection at the Museum as it bares the mark of a local saddlers. The hat has been donated to The Textile Conservation Centre Karen Finch Reference Collection, where it will be researched and conserved as part of the Deliberately Concealed Garments Project.
Date MadeLate 19th Century-Early 20th Century
Place MadeScotland
Place NotesUnder first floor floorboards, Cupar, Fife, Scotland
Medium and Materialsleather -animal material
CollectionCupar Cache
Object TypeConcealed Garments
Object numberCG2.b