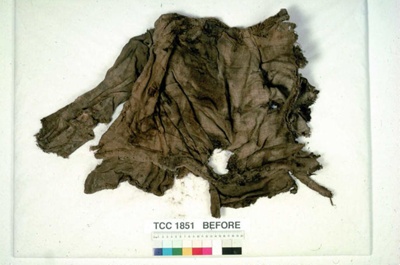 Name/TitleDoublet
About this objectAbove fireplace, Reigate, Surrey, England

The doublet has been dated to the early 17th century. It is waist length, with an upstanding collar, long sleeves and four short tabs. It is made of a coarsely spun, grey/brown linen. The body is formed of three layers of linen, an outer, inter-lining and lining, the sleeves and tabs from two layers of fabric. The garment is hand woven in plain weave and hand stitched with linen thread. The buttons, most of which are now missing, were made from linen thread wrapped around a solid core.

The doublet is in a poor, but stable condition. The removal of loose soiling will have reduced the rate of decay.

Susan Stanton treated the doublet at The Textile Conservation Centre in 1995, under the supervision of conservator Dinah Eastop. To ensure evidence of the object's concealment survived, minimal interventive treatment was undertaken. This decision was based on the owner's choice to display the doublet within the context of its concealment. To stabilise the object large pieces of debris were removed using tweezers and loose particulate surface soiling was extracted using low-power vacuum suction. All the dirt and debirs removed was labelled and is kept with the object. The doublet was mounted for display in a custom made padded board, the board fully supports the doublet and allows it to lie flat. The board is covered with perspex to protect it from dust and dirt in the atmosphere, where it is displayed.

-----
The doublet and its associated find was discovered in 1990, concealed in a shop in Bell Street, Reigate. The building is believed to date back to between 1400 and 1450. The shop is currently the premises of J.Stoneman and Sons, Funeral Directors and Monumental Stonemasons, who were undertaking a shop refit at the time the concealed objects were discovered. They were found located above the ingle-nook fireplace, between the ground and first floors.

Mr Stoneman took the artefacts to the Museum of London for identification following their discovery, from where Kay Staniland altered Conservator Dinah Eastop at The Textile Conservation Centre. Dinah accepted the doublet as student research project. The doublet was treated and prepared for display by student Susan Stanton in 1995, under the supervision of Dinah Eastop.
Date MadeEarly 17th Century
Place NotesAbove fireplace, Reigate, Surrey, England
Medium and Materialslinen (material)
MeasurementsLength 47cm
Width 61cm
Depth 8cm
CollectionReigate Cache
Object TypeConcealed Garments
Object numberCG3.a