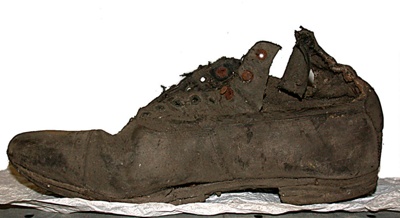 Name/TitleBoot
About this objectThis man's boot has a leather upper, sole and stacked heel and is of the Balmoral style. It was worn on the right foot, its pair was not concealed with the cache. The boot fastens with five eyelets and 3 pr-hooks, the lace was removed before it was concealed. This style of boot would have been bought to wear for Sunday best and used for work when it became worn. The sole has been repaired with Blackey.

The leather on both sides of the upper leg appears to have been deliberately cut away, leaving the backstrap loop. It may have been cut away so it could be reused, because of a medical condition the wearer was suffering or for ritual reasons .

The boot is in a very poor condition, the leather on both sides of the leg has been cut away, leaving the backstrap loop, which has been crushed. The leather is covered in a thick layer of dirt and mud.

-----
In 1997 this large cache of objects found concealed in a house in Ripley, Christchurch, inside a bricked up bread oven. The cache includes boots, fragments of leather and wood, a candlestick and a brush.
Date MadeCirca 1910-1920
Medium and Materialsleather -animal material
CollectionRipley Cache
Object TypeConcealed Garments
Object numberCG4.c