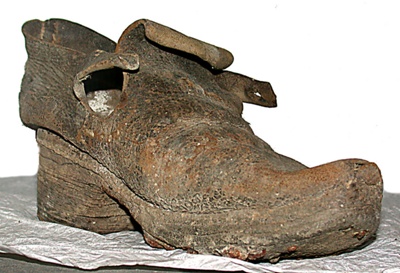 Name/TitleShoe
About this objectThis man's latchet tie shoe has a leather upper, sole and stacked heel, with hobnails. It has a narrow square pleated up-curved toe and small open sides. This style of shoe was fashionable during the mid 17th century and is likely to have been bought for best wear and later used for work when it became worn.

The shoe is in a poor condition, the leather is covered in compacted dust and dirt and the hobnails are rusted and loose.

-----
This shoe was found concealed in a cottage in Stockbridge, when the property was being demolished. The Southampton based company demolishing the house gave the shoe to Test Valley Area Trust, who donated it to the Archaeology department at Hampshire County Council Museums Service.
Date MadeMid 17th Century
Medium and Materialsleather -animal material
CollectionStockbridge Cache
Object TypeConcealed Garments
Object numberCG5.a