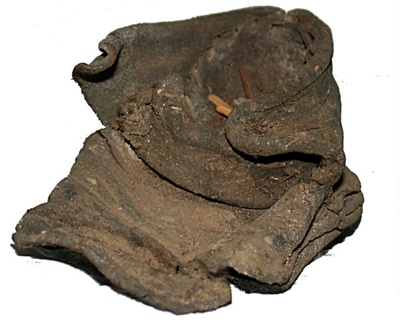 Name/TitleBaby's shoe
About this objectThis baby's shoe has a leather upper and sole and two latchets to tie. The sole is formed of a single layer of leather and does not have a heel. When found concealed the shoe contained fragments of straw and seeds.

The shoe is in a poor condition, it is squashed and deformed and the leather is brittle and compacted with dirt and dust. The sole is missing under the toe.

-----
This cache was concealed in a thatched cottage, in Hursley, Hampshire. It was hidden near the chimney and discovered in 1971. The owners of the house donated the shoes to the Archaeology department at Hampshire County Council Museums Service in 2001.
Date MadeCirca 17th Century
Medium and Materialsleather -animal material
CollectionHursley Cache
Object TypeConcealed Garments
Object numberCG7.a