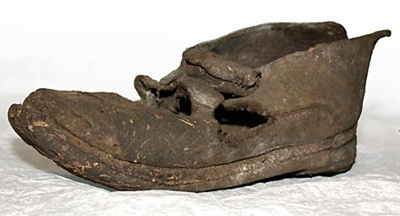 Name/TitleShoe
About this objectThis small, latchet tie shoe would have been worn by a child. The manner in which it is worn suggests it is the left shoe, its pair was not found with the cache. The upper, sole and what remains of the stacked heel is leather. The toe is narrow and domed. A curved side seam runs from the mid heel seat, making short quarters. The tongue appears to have been deliberately cut away, perhaps so the leather could be reused, or for ritual reasons.

The shoe is in a poor condition, as a result of heavy wear prior to concealment and the conditions in which it was concealed. The leather is deformed and brittle and covered in a layer of compacted mud, dust, straw and seed pods. The tongue was cut away before it was concealed.

-----
This cache was concealed in a thatched cottage, in Hursley, Hampshire. It was hidden near the chimney and discovered in 1971. The owners of the house donated the shoes to the Archaeology department at Hampshire County Council Museums Service in 2001.
Date MadeLate 17th Century
Medium and Materialsleather -animal material
CollectionHursley Cache
Object TypeConcealed Garments
Object numberCG7.b