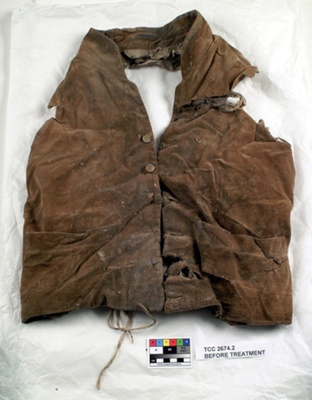 Name/TitleWaistcoat
About this objectThe front of the waistcoat is tan coloured velvet, it has two welted pockets and a stand up collar. Natural colour linen is used to line the velvet and three layers are used to form the back. There are seven hand stitched button holes, three brass buttons remain, one plain and two with an embossed flower pattern. Parts of the velvet and linen appear to have been deliberately cut prior to concealment. The reason for this has not been established.

The waistcoat is very creased and crumpled. When concealed it was not folded before being placed within the beam, but appears to have been pushed into the space, creating the many creases. The velvet is in a fair condition, a number of sections appear to have been deliberately cut prior to concealment, which has weakened the overall fabric structure in certain areas. The linen lining and back of the waistcoat are more fragmentary, large sections have been cut away. Ingrained soiling has caused the waistcoat to become stiffened and discoloured in some places, especially around the collar and in the area surrounding the buttons and the button holes. This is likely to be as a result of wear before it was concealed. There is some loose particulate soiling, such as straw and wood shavings.

-----
The Nether Wallop Cache was found in 1978. The discovery was made as the owners of a property in Nether Wallop, Hampshire, were gutting and renovating their home. The house has a 15th century cruck timber frame and was originally a farm dwelling. The cache was found in a first floor bedroom, above the living room. The items were found together, bundled into a knot-hole, formed in one of the oak brackets which is joined to into the main cruck frame and supports the cross-beam spanning the two arched frame members. The bracket is located in a North-West facing wall, directly above the inglenook fireplace.

The farmhouse was altered in the 17th and 18th centuries, the cache may have been concealed while alterations were being made. In the 17th century a upper storey was built into the original cruck frame to give two first floor bedrooms and an extra ground floor room was built on to the south-eastern end of the house, this is now the dining room. In the 18th century another ground floor room was built on the north-western end, with a corresponding upper room.

Following the discovery of the cache, the owners of the property wrapped the items in plastic and kept them in the old bread oven, in the ingle-nook fireplace. The cache stayed in this location for over twenty years, until they were taken to be identified at Winchester Museum. The Museum in turn passed them on to The Textile Conservation Centre, where the stomacher has become the subject of a student dissertation.
Date MadeCirca 1790-1840
Medium and Materialsvelvet -warp pile weave -pile weave
linen (material)
MeasurementsLength 52cm
Width 45cm
CollectionNether Wallop Cache
Object TypeConcealed Garments
Object numberCG8.b