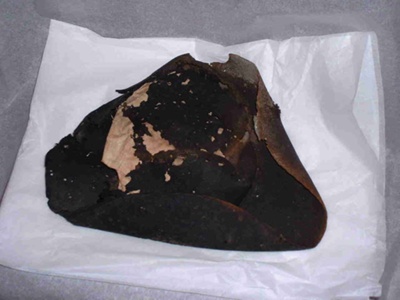 Name/TitleTricorn hat
About this objectThis hat is thought to date from 1780. The outer is made of moulded, black felted wool. It is lined with white course woven cotton.

The hat is in a poor condition. It has been squashed, causing damage to the felt. The felt is extremely weak and fragmentary. Holes in the felt suggest there has been a pest infestation.

-----
The tricorn hat was found concealed in a property in Cuckfield, Sussex. The discovery was made during the 1980's, when the house was being converted into flats. The owner donated it to Cuckfield Museum in 1998, where it is currently displayed.
Date MadeCirca 1780
Medium and Materialswool (textile)
cotton (textile)
CollectionCuckfield Cache
Object TypeConcealed Garments
Object numberCG10