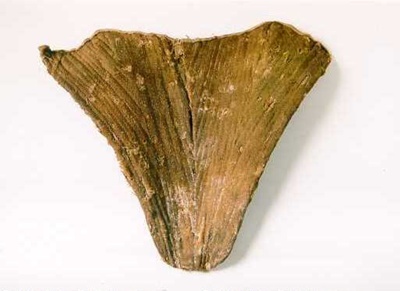 Name/TitlePart of a corset
About this objectThis part of a corset would have covered the chest and abdomen. It is formed of three layers, an outer layer of buff coloured wool, a layer of whalebone strips and a linen lining.

The corset is in a very poor condition. It is very dirty and extremely fragile.

-----
This corset was found in a thatched cottage in the village of Pontarddulais, West Glamorgan, Wales. Pontarddulais is an industrial settlement, but was formerly an agricultural area.

The owners of the cottage discovered the corset when they were undertaking renovation work in early 2002. It was concealed behind a thick stone wall to one side of the fireplace and was found lying on soil. Following its discovery the corset was donated to the Museum of Welsh Life, St Fagans, Cardiff.
Date MadeCirca 18th Century
Medium and Materialswool (textile)
whalebone -animal material
linen (material)
CollectionPontarddulais Cache
Object TypeConcealed Garments
Object numberCG11