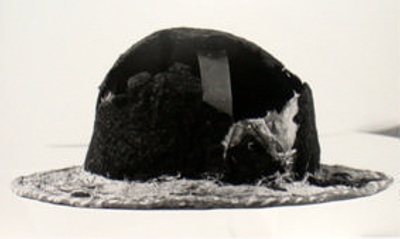 Name/TitleHat
About this objectThe hat is thought to date from approximately 1350, although its rarity and the lack of comparative examples make dating particularly difficult. It is made from blue felted wool that has been moulded to form the crown and brim without a seam. The brim is covered with four sections of tabby weave cream silk and gold wire. Ivory colour tabby weave silk is used to line the brim and inner hat. The brim is edged with satin weave red silk binding and cream silk and silver gilt cord.

Following conservation treatment at The Textile Conservation Centre the hat was in a poor, but stable condition. By removing of soiling and staining and consolidating and supporting the fabric, the conservator significantly reduced the rate of decay.

The hat was conserved in 1979 by Karen Finch. It should be noted that the conservation methods described below reflect the best practice of the time, some conservation techniques and approaches may have changed since. The purpose of the conservation in 1979 was to enable the hat to be safely displayed and studied at Saffron Walden Museum.

The hat was initially surface cleaned to remove heavy soiling. It was placed on a Melinex structure to provide support while cleaning was undertaken. White spirit was used to dissolve heavy greasy deposits. The hat was then wet cleaned, during this procedure it was placed in a net bag. Minimal mechanical action was used to prevent the loss of fibres from the felted wool.

Silk crepeline was then dyed to be stitched over areas of weakness, thus consolidating the fabric and providing support. The silk was couched in some areas.

A purpose made padded linen support was made to be placed inside the crown of the hat while it was on display, thus supporting the felt and maintaining its shape. The hat was then stitched to a padded board designed for display.

-----
This Medieval hat was concealed in Little Sampford Church, Essex. It was found in a cavity in one of the tower buttresses. The discovery was made when the buttresses were being repaired in 1908. It is not known when the hat was concealed, but it is thought to have been before the Reformation. A number of alterations have been made to the tower during the Church's history; it may have been placed in the cavity while works were taking place.

Before it was concealed it is believed that the hat would have worn by a stone statue of a pilgrim saint, standing on or beside the altar. The size of the hat supports this theory.

Following its discovery the hat was donated to Saffron Walden museum, where it is housed and displayed today. The hat underwent conservation treatment at The Textile Conservation Centre in 1979.
Date MadeCirca 1350
Place MadeEngland
Medium and Materialsfelted wool -felt
silk (textile)
metal thread -thread
CollectionLittle Sampford Cache
Object TypeConcealed Garments
Object numberCG9